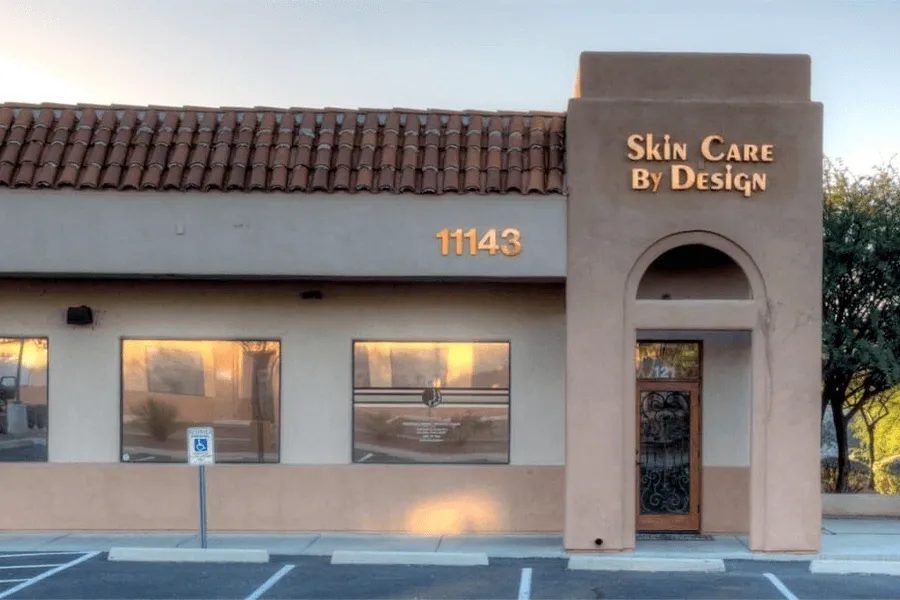 About Our Skin Care
by Design Facility
Skin Care By Design Aesthetic Spa is located in Oro Valley, AZ, just north of Tucson, AZ. Our facility offers a discreet location, a quiet ambiance, and services ranging from therapeutic spa facials to dermal fillers, BOTOX®, laser treatments, medical facials, skin tightening, and more.
We encourage you to arrive a bit early for your appointment, so you may enjoy a cup of herbal tea, lemon spa water, or one of our delicious flavored coffees. A spa professional will guide you to one of our six beautiful treatment rooms where you may enjoy the benefits of a facial or a medically designed skin care treatment.
Our passion and our focus are client education, results, and affordable anti-aging treatments for your skin. Everyone receives a complimentary, no-obligation consultation, at which time their primary skin concerns are addressed. Uniquely designed, customized programs and treatment options are explored. Each program is fully explained – how it works, why it works, and what results you can expect to achieve.
Sit back, relax, and enjoy the fusion of spa and medical, an unforgettable luxury that your skin deserves!
This place is great because they are always accommodating, friendly, punctual and above all very experienced! I highly recommend Natasha. I've had appts for filler/Botox/brows and laser hair removal.
Wonderful, calm, atmosphere; knowledgeable, caring staff. Linda is expert at what she does! They never try to up-sell, always keep your best interests in mind. They have my loyalty!
I am so happy I found this place! From the moment I walked in I was so comfortable and relaxed. The front office staff was so friendly and helpful. I had my consultation with Linda who was so great. She listened to my concerns and then gave me many different alternatives explaining each one. She did not try to convince me to do anything! I was so impressed I told my friend and he asked me to take him there for a B-12 shot and even though he didn't have an appointment Linda took the time to do a consultation with him regarding some skin concerns he had. This was my first time getting lip filler and botox. I was with Lindsey and she was so awesome! She talked everything over with me before we started and explained everything she was doing as she went. She made me feel so relaxed and happy. She did an amazing job. I absolutely love how I look. I can't wait to go back and see her again. I only wish I had done this sooner! These people are the BEST!!
I was running late for my first appointment but the staff was so kind and understanding. There were beverages to choose from in the waiting area. When Crystal explained the procedures to me, I could tell she was confident. Her skill is exemplary and she has a great flow as she applies product and connects procedures. I found myself smiling as she was dermal planing as my chin has been troublesome, and THAT was just the beginning! I left feeling 10 years younger, with a couple of the recommended take home products to extend my skin's fabulous glow. This spa has a high rewards program that will cover the products I purchased and part of a service. At checkout I was gifted a bag with valuable information on the rewards, the area and future services. The best way to remember self-care is to book my next appointment before I leave, and I sure did! Happy to have found this place!
I absolutely love this practice and its entire staff especially Ms. Linda the owner. She addresses all my skin care concerns. It's never too late to prevent or just pamper!
Hours
Tue - Fri: 9:00 AM - 6:00 PM
Sat: 9:00 AM - 2:00 PM